26th August 2019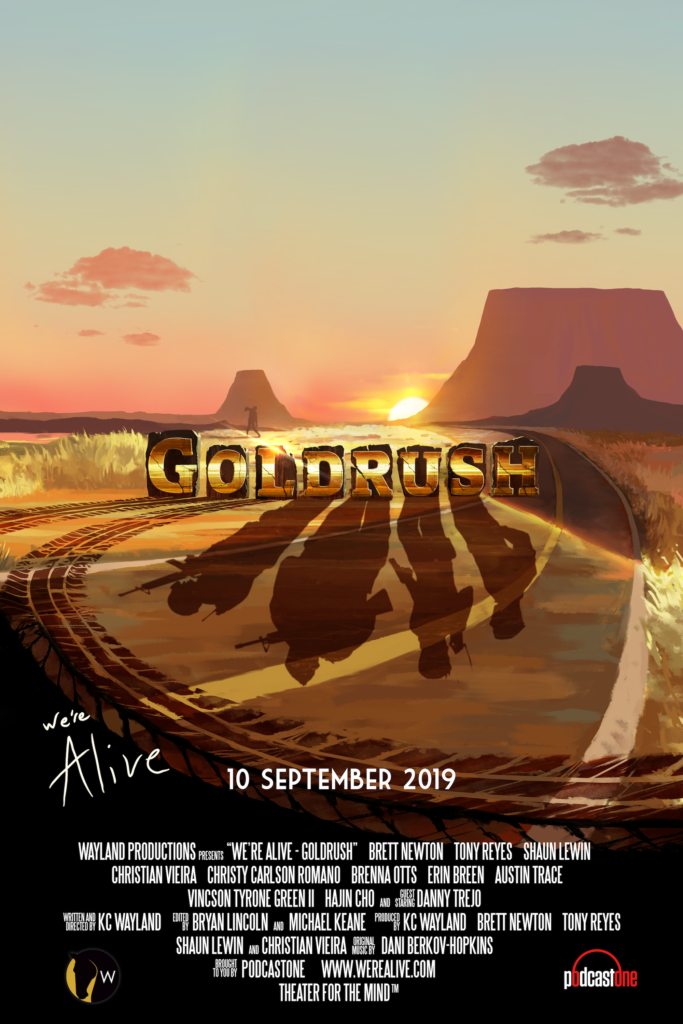 The "Theater for the Mind" hit audio series We're Alive launches a new, 10-episode season entitled "Goldrush" on Tuesday September 10th, 2019 online, with a live event release of the season premiere on September 7th 2019 at the Assistance League Theater in Los Angeles. Debuting its 6th season, We're Alive began back in 2009 and has been downloaded over 160 million times worldwide.
Written, directed and produced by Kc Wayland, Goldrush dives back into the series with an adventure that spans the time of the series. Four soldiers (Puck, Muldoon, Robbins, and Carl) stumble across clues to a hidden gold heist stash. Since gold retains value even after the apocalypse, they plot to track down the prize for themselves. The "goldrush" is a fever of greed, that could ultimately consume and destroy them. The values of camaraderie and companionship are tested as they embark on a secret adventure to become ultra-rich in this spaghetti-western tale of humor, horror and heartbreak.
Goldrush is a multi-layered story that fully utilizes the audio drama medium, employing a multitude of audio-focused comedic gags, plot devices that force visualization and scenes that take advantage of the soundscape.
Wayland Productions has partnered with Podcast One to release the series, starring Anthony Reyes, Shaun Lewin, Brett Newton, Christian Vieira, Brenna Otts, Erin Breen, Christy Carlson Romano (Kim Possible, Even Stevens), , Kaitlyn Bristowe, and guest starring Danny Trejo.
We're Alive: Goldrush, will be offered free of charge with limited ads on Apple Podcasts, Spotify, Stitcher or wherever RSS podcasts are available. The live event premiere for Goldrush is September 7th with full ticket information on our website: www.werealive.com.
Goldrush will follow the following release schedule:
7 September 2019 – Live Premiere of Chapter 1
Online:
10 September 2019 – 7 AM PST Chapter 1 "On the Road Again"
17 September 2019 – 7 AM PST Chapter 2
18 September 2019 – 7 AM PST Chapter 3
24 September 2019 – 7 AM PST Chapter 4
1 Oct 2019 – 7 AM PST Chapter 5
8 Oct 2019 – 7 AM PST Chapter 6
15 Oct 2019 – 7 AM PST Chapter 7
22 Oct 2019 – 7 AM PST Chapter 8
29 Oct 2019 – 7 AM PST Chapter 9
30 Oct 2019 – 7 AM PST Behind the Mic – Audio Documentary
5 Nov 2019 – 7 AM PST Chapter 10
Additional Story Info:
Set 17 years after the main events of WE'RE ALIVE, GOLDRUSH is a recollection story that describes the efforts of the "soldiers" (Greg Muldoon, Anthony Robbins, Carl Thomas, and Samuel Puck) attempt a side mission to retrieve a suspected stash of gold bullion.
Told from the perspective of an aging Gen. Puck, he confides this previously undisclosed tale to the only surviving relation of his former team, Alex Robbins, the son of Puck's friend Anthony. Over the course of ten episodes, the show will not only relate past tales of heroics, horror, and humor, but also sets the stage for future characters.
In Goldrush, fans will truly get to know these well-beloved characters characters on a much more emotionally satisfying level. Their humor and unique group dynamic certainly remain intact, and modeled after old Spaghetti Westerns, the story takes directions the series has not yet explored.
Filled with action, battles with the undead, love triangles, conflicting loyalties, and of course gold, WE'RE ALIVE: GOLDRUSH stands out as a truly unique Theater for the Mind experience for both new and old listeners.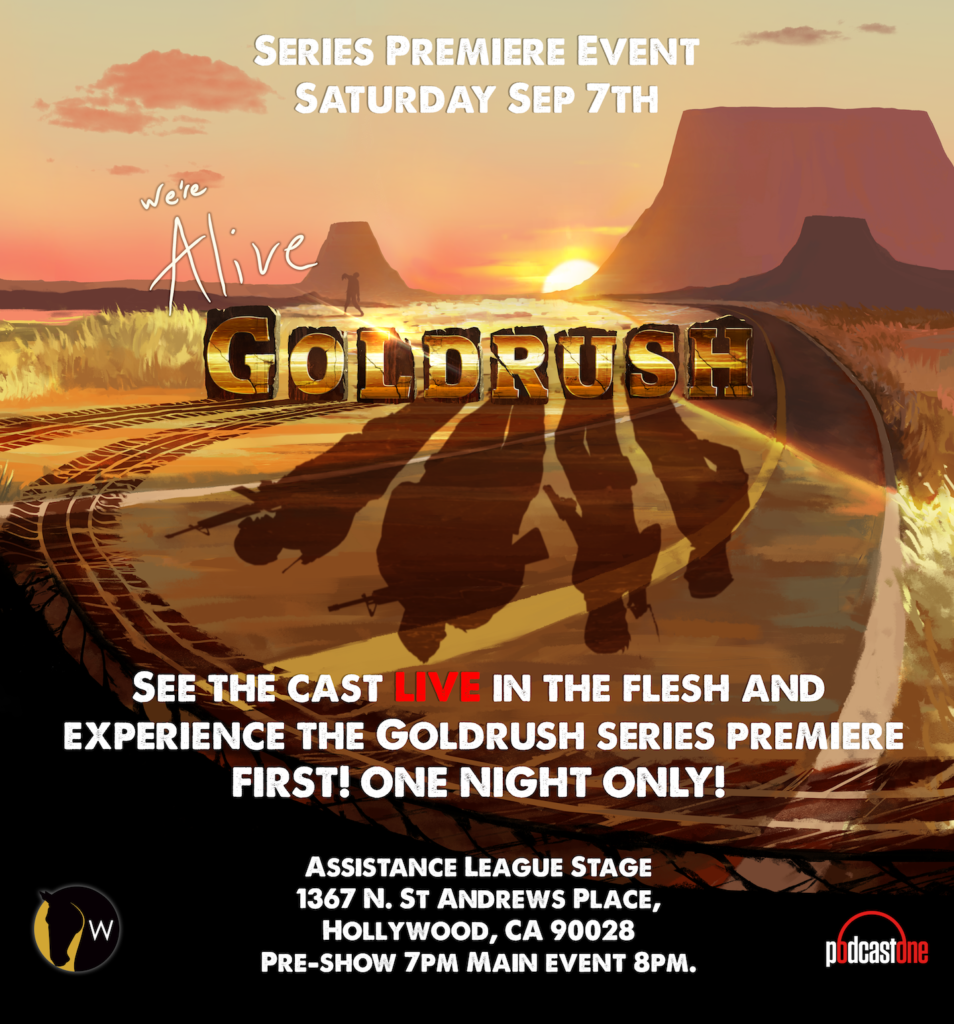 Join us as we debut the first episode of the We're Alive: Goldrush series with the cast, crew and creator. Experience the world premiere of the award winning audio-drama series. ONE NIGHT ONLY! This is our 4th live show in our 10th year of production.
Event Order:
7:00 PM – Doors open, pre-show begins, Riley's Shop opens
8:00 PM – Show Begins – Live intro/skit – Followed by:
8:20 PM – Goldrush Episode 1 – "On The Road Again"
9:30 PM – Goldrush Q & A with the actors/producers
10:30 PM – Close of show, last call for merch/ signings
(Times are Approximate)
General Admission: $45
VIP Access, backstage pre-show access, front two rows: $99
Brown Paper Tickets Ticket Widget Loading…
Click Here to visit the Brown Paper Tickets event page.
https://www.brownpapertickets.com/event/4252973
Location
Nine O'Clock Players/Assistance League Playhouse
(View)
1367 North St. Andrews Place
Los Angeles, CA 90028
United States
Latest posts by shantiryle (see all)