10th September 2019
The day you've all been waiting for, the premiere of #WAGoldrush. Chapter 1 "On the Road Again" is available now on Apple Podcasts from Wayland Productions and PodcastOne
Scripted Series with More Than 160 Million Downloads, We're Alive, Debuts New Season on PodcastOne
–We're Alive: Goldrush Features Actor Danny Trejo, PodcastOne Star Kaitlyn Bristowe and Former Disney Star Christy Carlson Romano–
Los Angeles, CA (September 10, 2019) – Kc Wayland Production's We're Alive, a podcast series that aptly coined the phrase "Theater for the Mind" and has seen great success with more than 160 million downloads to date, has teamed up with production, marketing and sales partner PodcastOne to debut its new season today, entitled We're Alive: Goldrush. The 10-episode series features guest-star appearances from actor Danny Trejo, former co-star of Disney's Kim Possible and Even Stevens, Christy Carlson Romano, and host of PodcastOne's Off the Vine and former Bachelorette, Kaitlyn Bristowe. The first episode is available now, with new episodes every Tuesday, on Apple Podcasts and PodcastOne.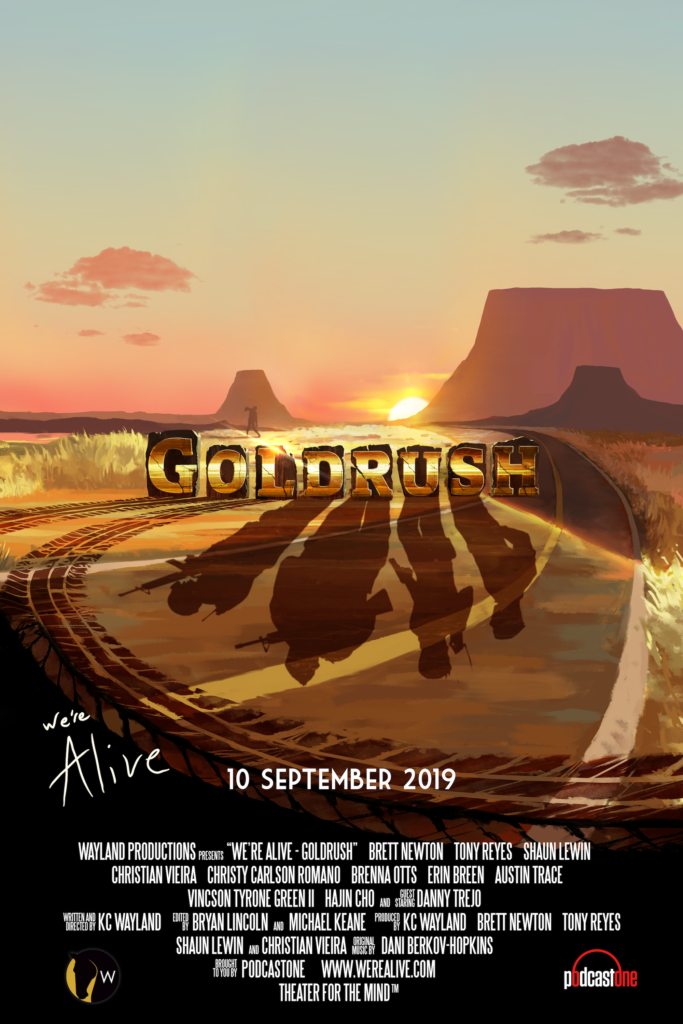 In the new season, the apocalyptic series adventures continue, as four soldiers stumble across clues to a hidden gold heist stash. Since gold retains value even after the apocalypse, they plot to track down the prize for themselves. The "goldrush" is a fever of greed, that could ultimately consume and destroy them. The values of camaraderie and companionship are tested as they embark on a secret adventure to become ultra-rich in this spaghetti-western tale of humor, horror and heartbreak. Goldrush is a multi-layered story that fully utilizes the audio drama medium, employing a multitude of audio-focused comedic gags, plot devices that force visualization and scenes that take advantage of the soundscape.
"Working with PodcastOne we have been able to put together an audio production that will set a new standard in audio entertainment. The freedom and liberties of working with PodcastOne in the audio space has allowed us to reach new heights, and can't wait to see what the future holds for the medium and fictional podcasts." – Kc Wayland
PodcastOne Founder and Executive Chairman, Norm Pattiz, said, "Coming on the heels of our huge success with 22 Hours: An American Nightmare and the continuing strong showing of Cold Case Files, our partnership with A&E Networks, the launch of Goldrush not only gives us a strong, new entry into the scripted category shows the strength of our content and promotional resources. Goldrush will be the next big winner for Kc Wayland and PodcastOne.
Throughout the series, there will be bonus episodes featuring interactive fan Q&A's, details from behind the scenes of the series and more.
MORE info and art in our official Media Press kit.
Goldrush will follow the following release schedule:
10 September 2019 – 7 AM PST Chapter 1 "On the Road Again"
17 September 2019 – 7 AM PST Chapter 2
18 September 2019 – 7 AM PST Chapter 3
24 September 2019 – 7 AM PST Chapter 4
1 Oct 2019 – 7 AM PST Chapter 5
8 Oct 2019 – 7 AM PST Chapter 6
15 Oct 2019 – 7 AM PST Chapter 7
22 Oct 2019 – 7 AM PST Chapter 8
29 Oct 2019 – 7 AM PST Chapter 9
30 Oct 2019 – 7 AM PST Behind the Mic – Audio Documentary
5 Nov 2019 – 7 AM PST Chapter 10
Be sure to leave a review on Apple Podcasts as well! We'd love to know what you think-
About PodcastOne
PodcastOne, (www.PodcastOne.com) the nation's leading advertiser-supported podcast network, was founded by Norman Pattiz, founder of radio-giant Westwood One. The network currently hosts more than 300 of today's most popular podcasts, including Adam Carolla, Shaquille O'Neal, Steve Austin, Kaitlyn Bristowe, Dan Patrick, A&E's Cold Case, Spencer and Heidi Pratt, Tip "T.I." Harris, Scheana Shay, Heather and Terry Dubrow, Jim Harbaugh, Ladygang, Dr. Drew, Chael Sonnen, Rich Eisen, Barbara Boxer and hundreds more.
Creator of "We're Alive: A Story of Survival" and "We're Alive: Lockdown". Writer and director, with a current focus on audio drama production.