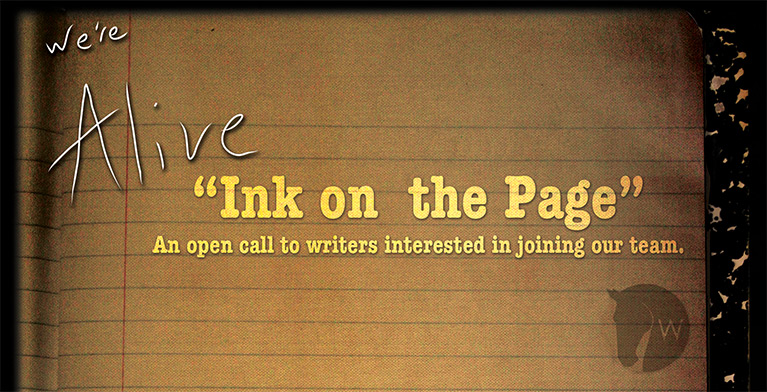 Writers! We are now accepting submissions to expand our creative team and the We're Alive universe. Our end goal is to work closely with writers to expand, fill in details, and possibly work on existing and new storylines coming in the series.
Here are the rules and details:
We are looking for someone who knows the story inside and out. Choose a character or multiple characters that already exist in the world of We're Alive and write a scene involving them. Must contain at least one original character, currently living in the storyline or possibly even dead. Feel free to explore any past or future event of the character, but remember we are looking for someone who can capture the essence of the characters that have already been created. This leaves the writer free to create new characters as well, but don't include characters from other works or copy-written material. 

We're not interested in currently taking storyline ideas or changing something drastically in the existing canon. A simple example would be in your submission, don't write changes to the "rules of infection" or origins. Another aspect to avoid is alterations to the "zombies", or other classifications that were already introduced in the story. In a thread, some time ago, a user wrote something about creating a flying infected, which wouldn't work in our lore.

Please do not submit storylines that you have already been developing or working on, because due to legal reasons, all submitted materials become legal property of Wayland Productions. We're not looking for new plot lines for this submission, but just in case something submitted coincides with something we're already working on we need to cover our legal butt.  

The core of the submission needs to be a good scene or scenes that work together. We're Alive has a balance of exposition, action, adventure, mystery, fun, and reality (heartbreaking as it may be). Don't try to cram an entire book into restricted pages, let the scene be itself.

There are two types of writers that we're looking for in the areas of novella writing and audio drama writing. Your submission should not exceed five pages in manuscript format for novella submissions, or 10 in screenplay format for audio drama writer submissions. Here is a sample of the screenplay format.  For novella submissions, the formatting isn't important, as long as the copy is clear.

The writer we choose will get a percentage of the profits from produced materials.

The writer we end up choosing will work hand in hand with Kc and all intellectual property will be retained by the company.

You will receive a confirmation email when you send in your submission.

Do not email your submission, only use the website form. Additional materials should not be sent.
It does not matter WHERE the writer lives, just that they have access to video conferencing software as we plan on doing virtual meetings amongst the team in the future.
We left a lot of seeds for side stories, we know we have clever fans and we're excited to start reading your submissions! If you have any questions, feel free to email social@werealive.com
Submission window ends Dec 31st, 2016.
Thank you for your submissions!