Goldrush Advanced Preview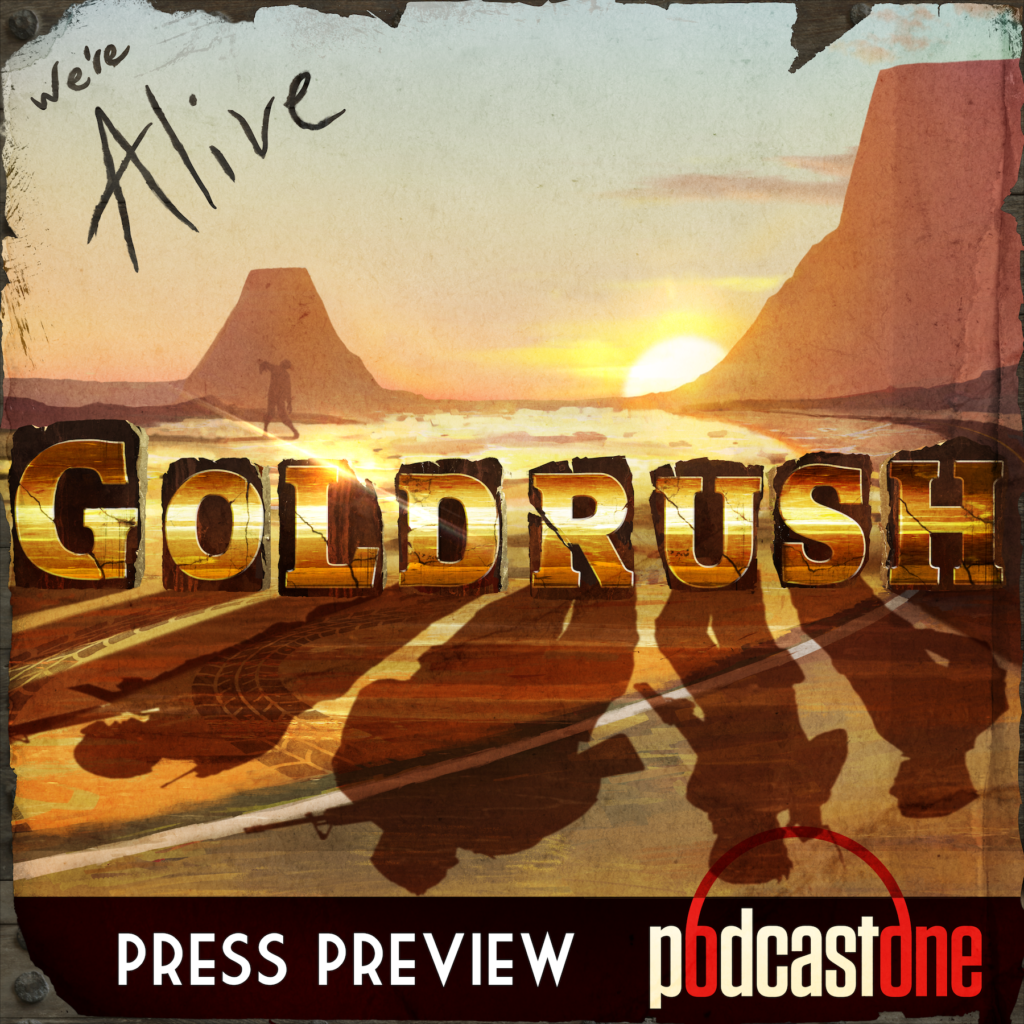 ---
Welcome to the advanced preview page of Goldrush. This advanced access to the show is intended for review and commentary on various outlets of media. Feel free to comment publicly about all the content, but please do not share audio segments as not to dampen the listener's experience; jokes are better the first time :). Please feel free to use any of the photos or video segments below. Thank you – Kc Wayland
---

---
General Press Release:
The Theater for the Mind™ hit audio series We're Alive launches a new, 10-episode season entitled "Goldrush" on Tuesday September 10th, 2019 online, with a live event release of the season premiere on September 7th 2019 at the Assistance League Theater in Los Angeles. Debuting its 6th season, We're Alive began back in 2009 and has been downloaded over 160 million times worldwide.
Written, directed and produced by Kc Wayland, Goldrush dives back into the series with an adventure that spans the time of the series. Four soldiers (Puck, Muldoon, Robbins, and Carl) stumble across clues to a hidden gold heist stash. Since gold retains value even after the apocalypse, they plot to track down the prize for themselves. The "goldrush" is a fever of greed, that could ultimately consume and destroy them. The values of camaraderie and companionship are tested as they embark on a secret adventure to become ultra-rich in this spaghetti-western tale of humor, horror and heartbreak.
Goldrush is a multi-layered story that fully utilizes the audio drama medium, employing a multitude of audio-focused comedic gags, plot devices that force visualization and scenes that take advantage of the soundscape.
Wayland Productions has partnered with Podcast One to release the series, starring Anthony Reyes, Shaun Lewin, Brett Newton, Christian Vieira, Brenna Otts, Erin Breen, Christy Carlson Romano (Kim Possible, Even Stevens), Kaitlyn Bristowe, and guest starring Danny Trejo.
We're Alive: Goldrush, will be offered free of charge with limited ads on Apple Podcasts, Spotify, Stitcher or wherever RSS podcasts are available. The live event premiere for Goldrush is September 7th with full ticket information on our website: www.werealive.com.
Goldrush will follow the following release schedule:
7 September 2019 – Live Premiere of Chapter 1
Online:
10 September 2019 – 7 AM PST Chapter 1
17 September 2019 – 7 AM PST Chapter 2
18 September 2019 – 7 AM PST Chapter 3
24 September 2019 – 7 AM PST Chapter 4
1 Oct 2019 – 7 AM PST Chapter 5
8 Oct 2019 – 7 AM PST Chapter 6
15 Oct 2019 – 7 AM PST Chapter 7
22 Oct 2019 – 7 AM PST Chapter 8
29 Oct 2019 – 7 AM PST Chapter 9
30 Oct 2019 – 7 AM PST Behind the Mic – Audio Documentary
5 Nov 2019 – 7 AM PST Chapter 10
Social Media #WAGoldrush #WereAlive #TheaterForTheMind
Theater for the Mind is a Trademark of Wayland Productions –
Orange, CALIFORNIA 92866
SER. NO. 87-451,360, FILED 05-16-2017
---
Media Pack:
---
Additional Story Info:
Set 17 years after the main events of WE'RE ALIVE, GOLDRUSH is a recollection story that describes the efforts of the "soldiers" (Greg Muldoon, Anthony Robbins, Carl Thomas, and Samuel Puck) attempt a side mission to retrieve a suspected stash of gold bullion.
Told from the perspective of an aging Gen. Puck, he confides this previously undisclosed tale to the only surviving relation of his former team, Alex Robbins, the son of Puck's friend Anthony. Over the course of ten episodes, the show will not only relate past tales of heroics, horror, and humor, but also sets the stage for future characters.
In Goldrush, fans will truly get to know these well-beloved characters characters on a much more emotionally satisfying level. Their humor and unique group dynamic certainly remain intact, and modeled after old Spaghetti Westerns, the story takes directions the series has not yet explored.
Filled with action, battles with the undead, love triangles, conflicting loyalties, and of course gold, WE'RE ALIVE: GOLDRUSH stands out as a truly unique Theater for the Mind experience for both new and old listeners.
Author Bio:
Orange, California native Kc Wayland has carried within him a passion for the creative arts from a young age. As a teenager, he earned the Award of Excellence in Arts and Best Student Editor and graduated with top honors from Orange High School Media Arts program for Acting and Film Theory, earning the Principal's Medallion. Upon graduating, he was awarded an academic scholarship to attend Chapman University's School of Film and Television.
In January of 2002, Wayland enlisted in the United States Army, taking a leave of absence from Chapman. He received two certifications in broadcast engineering and was awarded both Top Graduate and Distinguished Honor Graduate. He returned to Chapman in 2003, but was deployed to Iraq midway through his first semester. From 2003 to 2004, Wayland served with the 222nd Broadcast Operations Detachment in the heart of Baghdad. His service earned him a nomination for a Bronze Star for meritorious service. During his time overseas, Wayland filmed his personal experience that would later become the feature-length documentary "365 Boots on Ground."
Wayland returned to Chapman within a month of active combat. During this adjustment period back to civilian life, he focused his energy on completing "365 Boots on Ground." The documentary would go on to earn several awards, including: Best Documentary at Chapman 2005, Best Student Documentary at the Bear Bear Film Festival, and Best Student Film at the Tiberon International Film Festival. He graduated from Chapman in 2008 as valedictorian of his class.
While teaching film production at Costa Mesa High School and Coastline ROP, he began writing what would later become "We're Alive: A Story of Survival." What started off as a means of coping with his military experience, "We're Alive" evolved into a wildly successful and revolutionary zombie audio drama.
Wayland acted as lead writer/editor/director/producer of "We're Alive" on each of the 48 episodes from 2009 to 2014. The rise of "We're Alive" coincided with the booming popularity of podcasts and zombie culture, standing out for its gritty urban realism and focus "theatre for the mind" audio techniques. Its success earned the show a place within the Nerdist Podcast Network, garnering over 50 million downloads in the course of its run. The series was also nominated for and Audie by the Audio Producers Association, and was in iTunes Best of 2012.
A sequel of sorts to "We're Alive: A Story of Survival" entitled "We're Alive: Lockdown" was successfully funded via Kickstarter in July of 2015 raising over $55,000 for the production, and was released in April 2016 to rave reviews.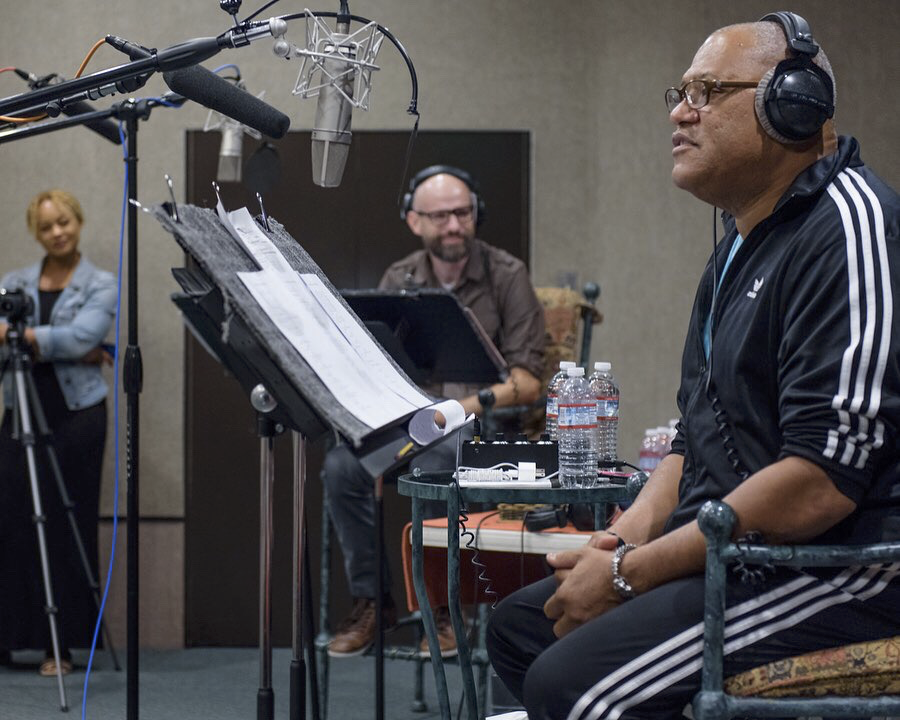 Following the success of "We're Alive," Wayland signed with the Paradigm Talent Agency in February of 2016, and began working on the 10-part audio-theater series, "Bronzeville" starring Laurence Fishburne and Larenz Tate, to name a few from the all-star cast and is currently producing the 2nd season (2019).
Kc Wayland continues to strive towards expanding the audio-drama industry and helping others understand and build on the new art wave that is "Theater for the Mind", writing the modern audio drama manual Bombs Always Beep and continuing to teach new minds as he instructs sound design, storytelling for audio, and audio drama production at Dodge College of Film and Media Arts at Chapman University, and USC School of Dramatic Arts
Full Cast and Crew List:
We're Alive was Created by Kc Wayland
Written, Directed and Produced by Kc Wayland
Produced by:
Brett Newton
Anthony Reyes
Shaun Lewin
Christian Vieira
Starring:
Brett Newton as Puck
Anthony Reyes as Robbins
Shaun Lewin as Muldoon
Christian Vieira as Carl
Christy Carlson Romano as Gloria
Brenna Otts as Anita
Erin Breen as Rhonda
Austin Trace as ALEX
Vincson Tyrone Green II as NICHOLAS
Hajin Cho as VERA
Thomas Bell as HOGGS
Jim Gleason as MICHAEL
Otto Sturke as VICTOR
Nate Geez as SAUL
Elisa Eliot as PEGS
Constance Parng as CJ
Glenn Hoeffner as GLENN
Jay Olegario as DATU
Tammy Klein as KELLY
Blaire Wayland as LIZZY
Shirley Jordan as TANYA
Scott Marvin as BURT
Claire Dodin as RILEY
Greg Miller as PETE
And guest starring: Danny Trejo as Danny Blackburne
Additional voices by:
James Stebick
Graham Beightol
Liam Holton
Kaitlyn Bristowe
Katie Wayland
Jenny Lynn
Kc Wayland
Dani Berkov-Hopkins
Chase Hooper
James Stebick
And Michael Swan, the record keeper.
Special Guest Voice
Nick Tochelli
Associate Producers Shanti Ryle
Lauren Croom
Blaire Wayland
Casting by David Seiden
Vanessa Knight
Original music by Dani Berkov-Hopkins
Violinist Eileen Kim
Cantina Musicians:
Jenny Swoish
Charlie Magdaleno
Katie Wayland
Sound Designers:
Kc Wayland
Michael Keane
Bryan Lincoln
Additional sound team
Steve Widmark
Tim Mulhern
Kennedy Phillips
Katie Wayland
Zinterns
Jennifer Losch
Tej Master
Graham Beightol
Sofia Hernandez
Erin White
Karla Contreras
Megan Feighery